On March 23rd, Gold Hongye Rudong Project Department of CC6 achieved the first place in the quality evaluation of the first quarter of 2021, and was awarded as "Quality Model of Rudong Base of Sinar Mas Group in the first quarter of 2021" by the Owner.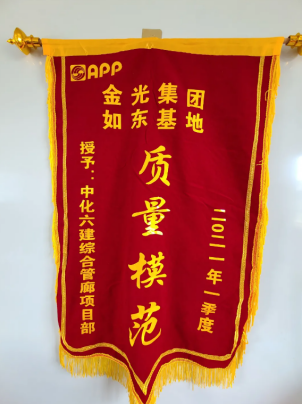 Since start of the project, CC6 has promoted the fine management of the Gold Hongye Rudong Project comprehensively, continuously strengthened the safety management of the construction site, and strictly controlled safety and quality, completed the construction tasks with high quality. It has been fully praised by the Owner.
The project is located in Yangkou Port Development Zone, Rudong County, Nantong City, Jiangsu Province, with a total investment of 45 billion CNY and covers an area of 8,500 mu. Upon completion, the project will be able to produce 3.96 million tons of high-grade household paper annually and will become the world's largest production base for household paper.