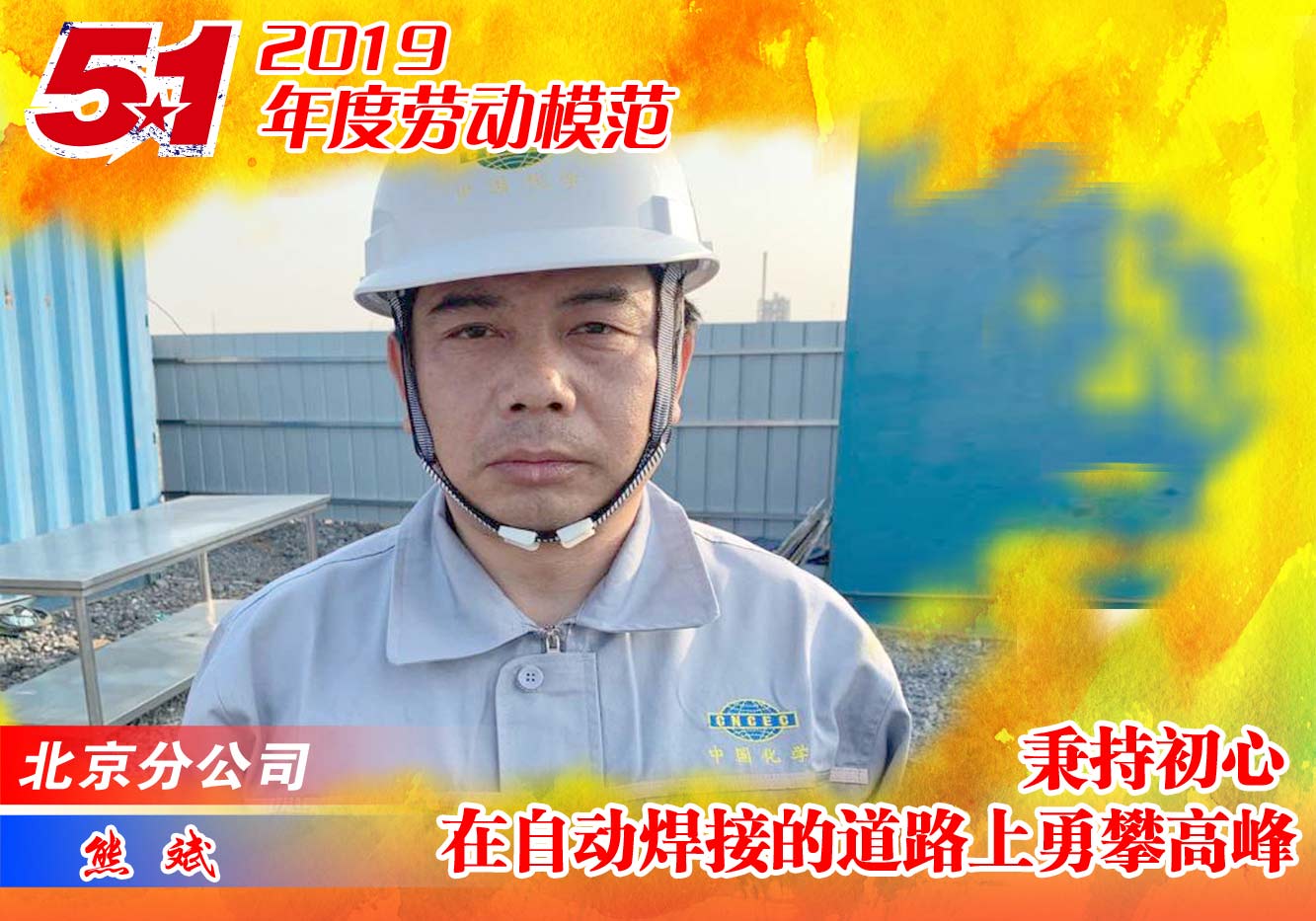 Xiong Bin, 47 years old, is the leader of the automatic welding team and an expert on automatic welding in Beijing Branch. He is mainly responsible for research, development, promotion and use of automatic welding. In 2019, he was awarded the honorary title of "Outstanding Craftsman" in chemical construction industry by China National Association of Chemical Construction Enterprises.
In the construction work, automatic welding machines were mainly used for DN200-600 pipeline. By summarizing, analyzing and studying the welding work as well as doing continuous experiments and improvements, Xiong successfully developed the function of welding DN200-800 pipeline, which saved more than $280,000 for Beijing Branch every year. He now possessed 6 patents and 2 utility models, which are widely used on Chinese mega projects.
During the construction of Dalian HengliPetrochemical(Coal-to-hydrogen, Polypropylene, Ethylene Glycol, Fuel Gas) Project and Huizhou Refinery Phase IIProject in Guangdong, he established the company's first "piping prefabrication workshop" in order to ensure the timely delivery of the project due to the severe compression of the project schedule. At a speed of 1,575 inches per day and welding primary pass rate of 99.99%, Xiong and his team finished the construction milestones one by one, and achieved the company's goal of "piping prefabrication industrialization".
The construction of the "piping prefabrication workshop" greatly improved the working efficiency and quality of welding and greatly reduced the construction cost and the input of workforce. Compared with manual welding, the speed was increased by 8-10 times, and the welding pass rate was increased from 96% to 99.99%, which savedmore than $1,000,000 of manpower and material resources for the company every year.
In addition to fighting on the front line, he constantly strengthened the combination of theory and practice, carried out in-depth research on automatic welding and achieved a lot of theoretical results. His papers on automatic welding machines and automatic welding techniques have won several awards from Chinese Chemical Industry Association. The development and implementation of these results have enhanced the company's core competitiveness.
As a pioneer in auto-welding and a generous master, he passed on his years of work experience to young employees unconditionally. More than 30 of his apprentices have grown into the core force on construction sites. Among them, 19 have obtained qualification of automatic welding, including 1 first-level technician and 2 second-level technicians.